We're sorry to hear you want to cancel your subscription. Organizations using our tools regularly report a positive return on their investment! That's because
360MatchPro by Double the Donation
helps organizations capture more of the $4-7 billion left on the table in corporate matching gifts every year.
What happens after we cancel our account?

Most likely, 360MatchPro is fully set up, integrated across your website and fundraising tools, earning your organization more money from matching gifts in the background.
If your subscription is cancelled, your organization will need to remove Double the Donation's tools from your website. Removing these tools means eliminating your donors' easy access to matching gift program guidelines, forms, and links.
This removal project typically entails the following steps.
Step 1: Un-integrating 360MatchPro from your donation forms and CRMs.
Double the Donation integrates with your donation forms and CRM to gather matching gift insights as donors give. This integration takes the form of a streamlined company name search tool on your donation forms to allows donors to search for their employer's name, then a plugin on the confirmation page to provide donors with their matching gift next steps. You will need to deactivate each integration individually.
Reference the integration guides for each platform here
to understand what deactivation entails.
What the donor sees on your donation form: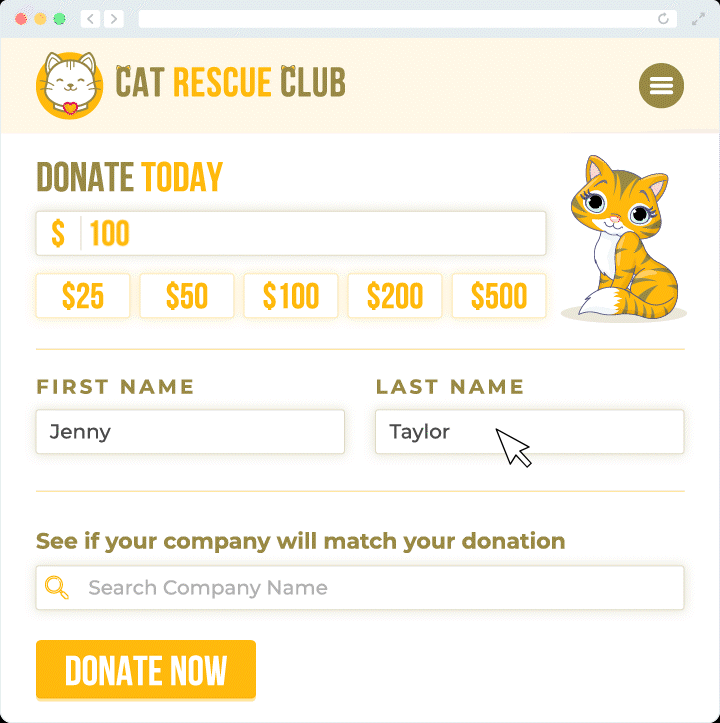 What the donor sees on your confirmation page:
Step 2: Removing the company matching gift program search tool from your website.
Most organizations embed this search tool on 4-5 pages on their website, so you will need to ensure you are able to locate each page that features the plugin. Once your account is cancelled,
this error message
will appear in the matching gift plugin in place of the helpful search tool that allows donors to discover their matching gift eligibility. To avoid confusing donors, it's important to take the search tool off of each page where it appeared.
What the donor sees on your website:
Step 3: Review your organization's matching gift email strategy. 360MatchPro automatically delivers matching gift instructions directly to your donors over email. This matching gift messaging runs automatically, encouraging donors to submit matching gift requests and raising more money for your organization. Once these emails are no longer being delivered by 360MatchPro, your team might need to figure out how you will continue actively messaging donors about matching gift.

What the donor sees in their email inbox: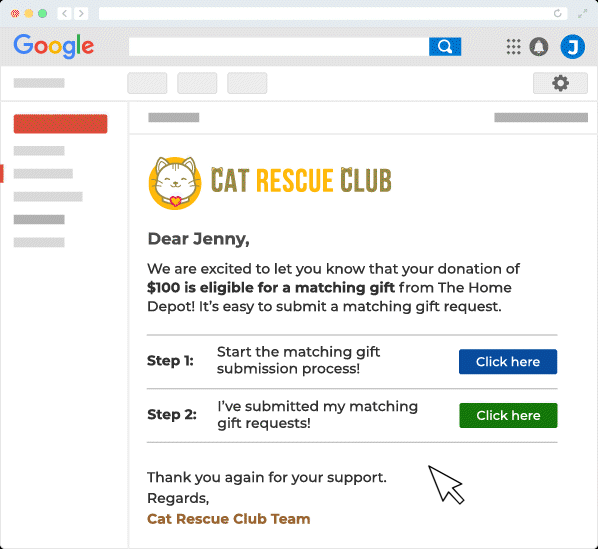 How to request cancellation
If you would like to cancel your subscription, please complete
this form
. Once the form is completed, a member of our team will follow up with you shortly.
I'm not sure if I want to cancel. How can I get information about how our account is doing?
360MatchPro takes minimal time to set up and very little ongoing maintenance. Sometimes, this means new team members don't naturally get access as part of their onboarding process. We understand! There are lots of resources available for you to get access to your account and review the matching gift results that have been occurring in the background all along.

Use the following instructions to log in to 360MatchPro depending on your situation:

We're also happy to schedule an onboarding call to get you up to speed with your account!
Contact us at
support@doublethedonation.com
, let us know you're unfamiliar with your organization's account so you want to know how things are going, and request an onboarding call. We'll get you scheduled ASAP.